Compatible with Near and Far and its expansion Amber Mines
20 removable trays
Lid closes flush
Can be stored vertically
Supports premium card sleeves
(max ext. size 64 x 95 mm & 49 x 72 mm)
Dimensions after assembly: 284 x 284 x 60 mm
Assembly requires wood glue
This insert/organizer is a non-licensed product. All trademarks and copyrights are properties of their respective owners.
Hobby gaming product. Age 14+. Not a children's toy.
Warning: Choking hazard, not suitable for children under 3 years.
The players are brave adventurers in search of a legendary city in a desolate land full of the ruins of a dead civilization. They will find threats and companions, glory and riches, artefacts and quests. For all this the game comes with a wealth of cards, dice, tokens and coins. Our organizer stores everything from base game and expansion in one box as well as speeding up set-up time and structuring the game table.
NEFA consists of 20 trays which can all be removed from the box and freely arranged on the table.
Trays 1-5: Storage for big cards which can also be used as card dispensers on the table.
Trays 6-9: Storage for small cards which can also be used as card dispensers on the table.
Trays 10-13: One per player with tokens and dice in their color.
Tray 14: A tableau to store the character standees and their reputation markers. The plastic stands have to be removed and are stored separately.
Tray 15: The cash box for coins (cardboard or metal) and gems.
Tray 16: All adventurer tokens go into here, with separate spaces for miners and magic teachers (from the expansion), so you can choose and fill the cloth bag as desired.
Tray 17: Four compartments for the faction tokens.
Tray 18: Four compartments for food and plastic stands (of the character standees).
Tray 19: Pack birds.
Tray 20: Quest tokens.
If you do not own the Amber Mines expansion use the included placeholder to secure everything inside the box in its place.
Once all trays are back in the box, the town board, storybook, player boards, atlas and rule book go on top in a specific order (because of the spiral bindings). The lid will fit flush. The game can be stored vertically.
This article is delivered as a kit that requires assembly. We recommend the use of wood glue (not included).
Models pictured are for size comparison only. They are the personal property of Feldherr company or employees.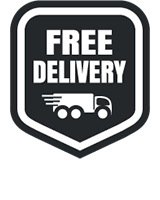 We offer free shipping for most countries!
European Union - flat just 7,99 Euro - Free from 69 Euro
USA & Canada - flat just 14,99 Euro - Free from 199 Euro
Worldwide shipping: Conditions here